Description
Solution manual for Microsoft® Office 365 & Office 2016: Introductory 1st Edition by Vermaat
Solution manual for Microsoft® Office 365 & Office 2016: Introductory 1st Edition Misty E. Vermaat, Steven M. Freund, Corinne Hoisington, Eric Schmieder, Mary Z. Last, Philip J. Pratt, Susan L. Sebok, Joy L. Starks ISBN: 9781305870017 9781305870017
YOU ARE BUYING the Instructor Solution Manual in e-version for following book not an actual textbook.
Shelly Cashman Series® Microsoft® Office 365 & Office 2016: Introductory, 1st Edition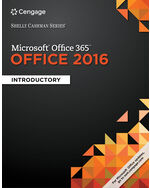 Misty E. Vermaat, Steven M. Freund, Corinne Hoisington, Eric Schmieder, Mary Z. Last, Philip J. Pratt, Susan L. Sebok, Joy L. Starks
ISBN-10: 1305870018
ISBN-13: 9781305870017
© 2017
We are sure you would like to know what is an Instructor Solution Manual (ISM /SM) and what will you receive when you order a digital solution manual for this specific book with Testbank50.com.
Sure all you guys know that there are many unsolved problems on the end of each chapter in your textbook, and you need to solve them usually as assignment according to your instructor or professor plan for your course.
Instructor Solution Manuals are chapterwise step-by-step comprehensive solutions to end of each chapter problems. TestBank50.com provide Solution manuals in digital downloadable formats such as pdf or word version.
Instructor Solution Manual files are different with what you have seen till now as Student Solution Manuals. Instructor Solution manuals are only available to professors and instructors who are teaching a related course in united states universities.
Testbank50.com provides students with a complete chapter wise Instructor Solution Manual files. The full digital download will be available immediately after purchase.
What makes us different?
INSTANT DOWNLOAD
100% PRIVACY
FREE SAMPLE AVAILABLE
180 DAYS FREE UPDATES ON ALL PURCHASED FILES
24-7 LIVE CUSTOMER SUPPORT (Email, Chat, Skype, Tel)